13

min read
The Kodak Ektar H35 is one of the most fun reusable cameras to hit the film photography scene this year. The Ektar H35 is built for all photographers who love capturing moments on film, but wish they were able to eek out just a couple extra frames per roll.
This stunning camera shoots images using just half a regular 35mm frame in portrait format, doubling the capacity of each roll. Using this camera, you'll be able to take 48 or 72 images per roll instead of the usual 24 or 36.
But is the Kodak Ektar H35 camera worth it?
The Kodak Ektar H35 half-frame film camera is pocket-able, lightweight, economical, and requires one AAA battery to operate. The best part is the camera design creates a fuss-and-focus-free shooting experience that lets photographers take quick candid shots that capture laughs and moments easier than any other camera.
It's the kind of everyday camera that you can take with you anywhere in the world, and be able to fire off quick shots that capture the mood and lifestyle around you. I've captured more smiles and natural poses with this camera than I ever could with something heavy and bulky, like a Hasselblad or RB67. As well, the lens tends to render flattering, perfect skin tones that your friends and family are going to love.
I've been using the Ektar H35 for the last month now, and here's what I found when shooting this camera.
Get the awesome Kodak Ektar H35 camera on Amazon here.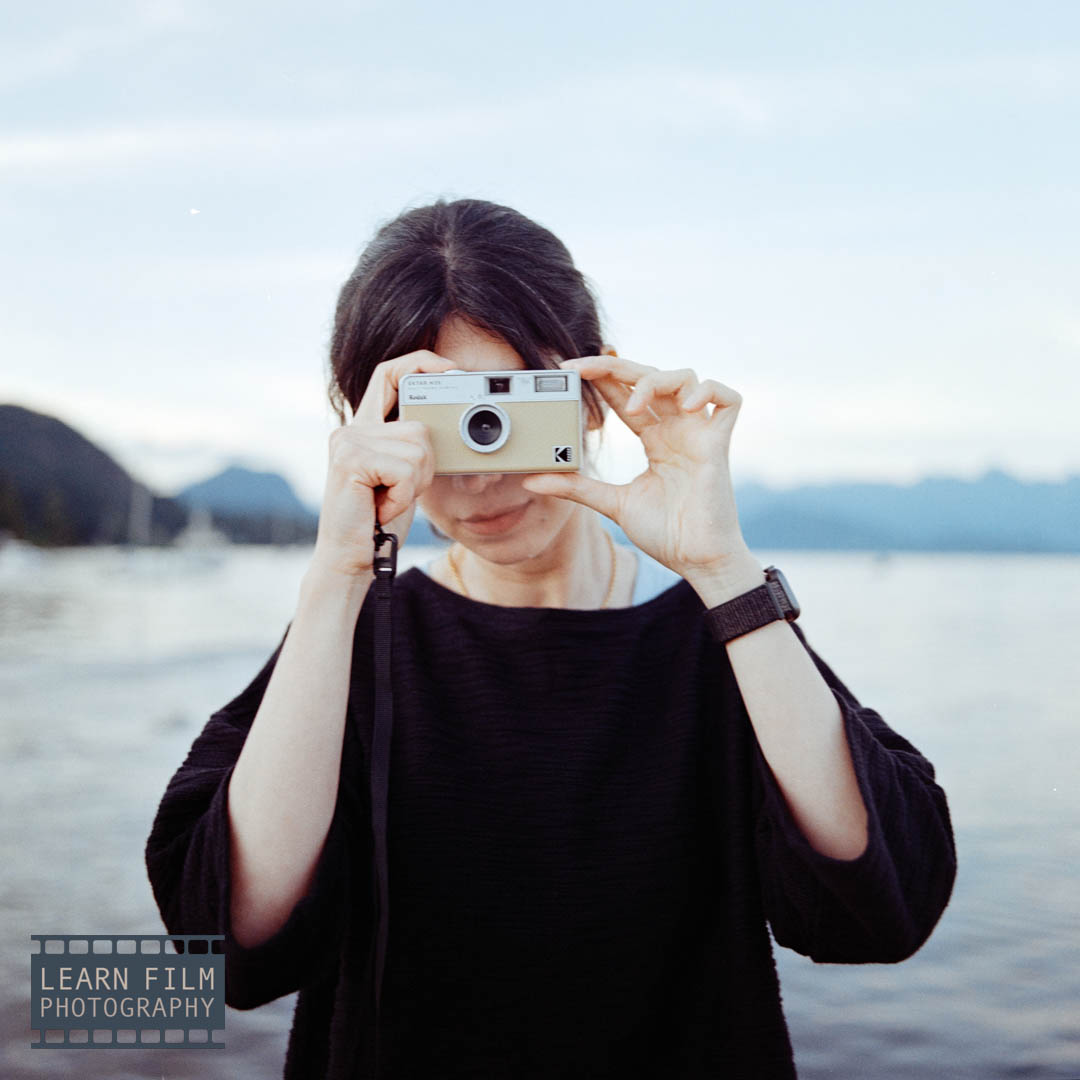 Pros
Fits easily in your pocket (take it anywhere)
Lightweight and durable
Environmentally friendly option over disposable cameras
Doubles the capacity of every roll
Can operate without a battery (only necessary for flash)
Quiet shooting experience (great for street photography)
Quick, focus-free operation
Almost no distortion (great for architecture)
Fairly sharp lens
AAA batteries and 35mm film are available anywhere in the world
Cons
No battery included
After using the flash, it will fire on the next frame (even 30 minutes later)
The rewind knob feels like it could fail
Can take a long time to finish a single roll
The included strap is the worst design and will not keep the camera secure
Close-up shots will be out of focus
Flares significantly when the sun is in the frame.
Difficult to take group selfies with
Not weather sealed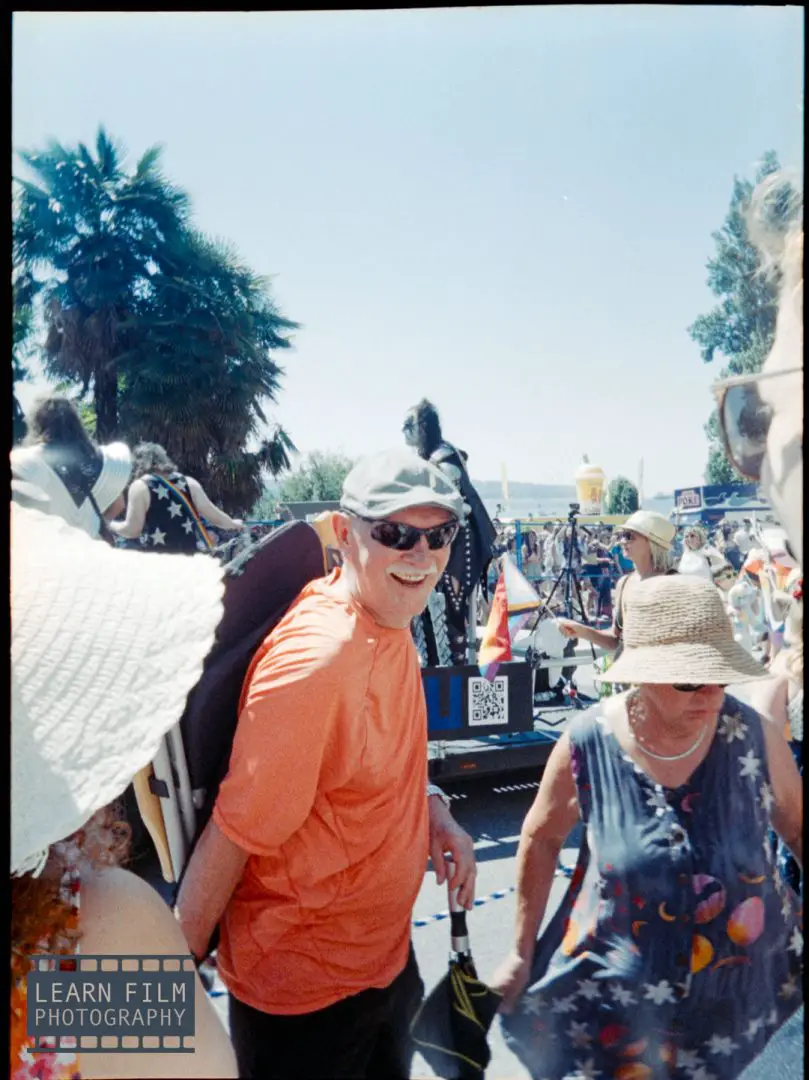 What is the shooting experience like?
Shooting with the Kodak H35 is a fun experience. Not only does the camera have a fantastic, vintage-inspired look, but it is so quick and easy to operate that you'll be able to capture more smiles and candid laughter with this camera than any other.
After loading the camera with 200 or 400-speed 35mm film, all you have to do is aim the camera and press the shutter.
In daylight, the image will be exposed perfectly almost no matter where you are. While in the shade or indoors, you'll need to turn on the flash by rotating the silver frame around the lens to the left. A little red light on the back will light up when the flash is ready to fire (takes about 5 seconds with a rechargeable battery). Just note, after you take a photo with the flash on, the next photo will also have a slightly weaker flash as well.
After shooting the image, rotate the film advance on the bottom left side of the camera until it clicks to cock the shutter for the next photo.
The Kodak Ektar H35 half frame is one of the easiest film cameras on the market for beginners. There's no fussing around with camera settings or focus, making it quick and easy to shoot.
The only times where the camera won't work is when you want to get close to your subject, or when you want to take group selfies. The camera doesn't focus closer than 1 meter, or 3.3 feet, meaning anything closer than that will be blurry.
The camera has a vertical frame, so selfies with one or two people are fairly easy to manage. However, group selfies will require holding the camera on its side to get a horizontal aspect ration, which can be difficult. In this case, it's best to have someone nearby take the photo.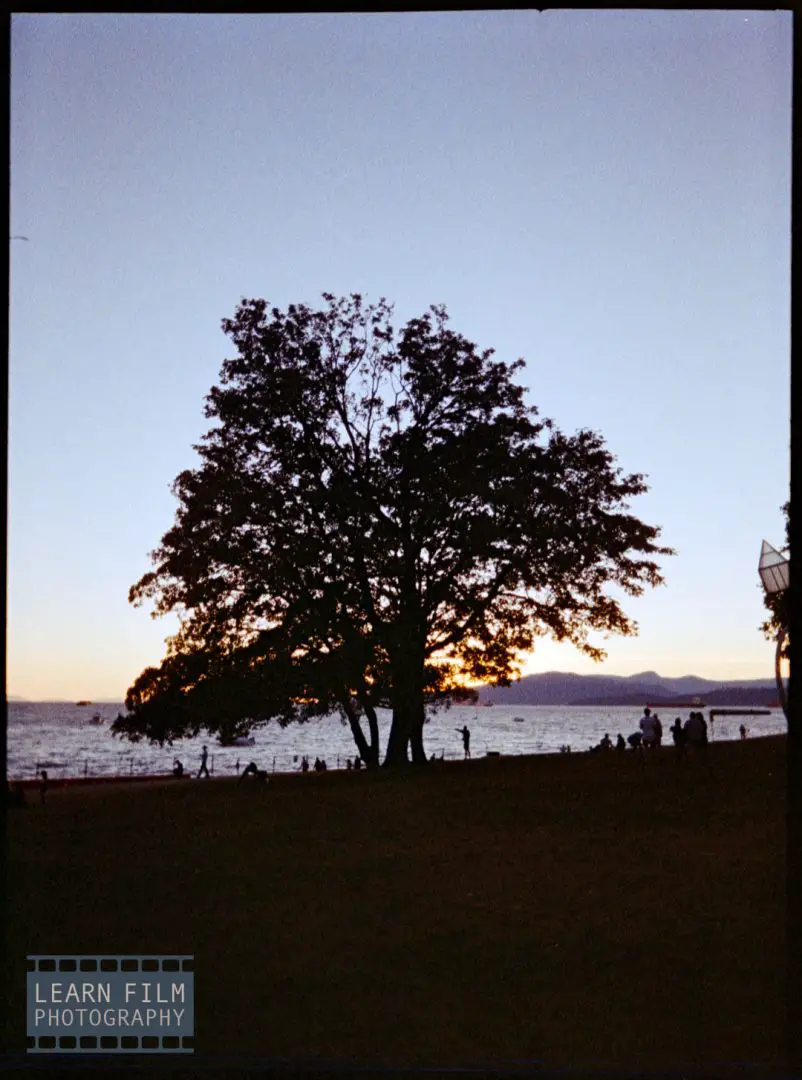 What film does the Ektar H35 Camera use?
The Kodak H35 half frame camera requires ISO 400 color or black and white film for shooting in most situations. It is possible to get away with ISO 200 film stocks, like Kodak Gold or Fuji C200 so long as you are shooting in the middle of the day or using flash.
This camera is made for budget film stocks like Kodak Gold, Ultramax, or Fuji X-Tra, which render skin tones beautifully — especially around sunset and sunrise, or on the beach. Find these films on Amazon here, or on Adorama.
Since this camera only has one shutter speed (1/100th of a second) and aperture (f/9.5), you won't be able to use every film stock on the market.
I'd suggest staying away from the professional film stocks, like Portra 400, because those rolls are intended for creating images with a wide-exposure latitude and for color flexibility — the kind of features professionals spend a lot of money to achieve, but tend take away from the fun factor of shooting film.
Right out of the box, Kodak Gold and Ultramax will capture your memories with that amazing and flatting warm glow.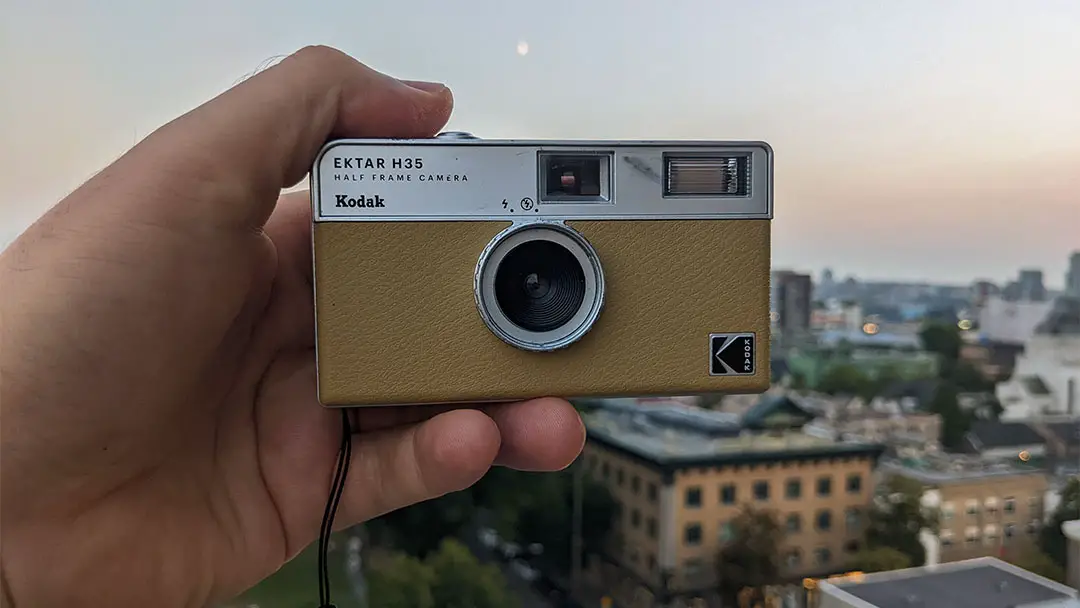 Kodak Ektar H35 Build quality
The Kodak Ektar H35 is a plastic camera. There's no metal to be found anywhere outside of the battery you insert, and the Kodak-branded face plate on the front. Despite that, it's a durable camera that can easily take a couple drops, or be left loose in your bag or backpack without worrying.
After about a month and a bit in my bag, the camera has gotten a few small scuffs and scratches on the silver finish on top. But the textured surface on the bottom half of the camera has remained free of any and all imperfections from use.
Overall, I'm quite happy with the build quality of this camera. Even after a couple drops, it's still in fully working condition. It feels like a camera that I can trust to bring on an airplane, camping, hiking, or anywhere else.
That said, it's definitely not weather sealed. It might not hold up so well in a desert sandstorm or heavy rain.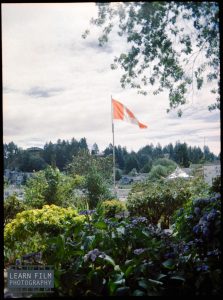 Image quality
The next big topic with this camera is the image quality. And I have to say, despite using an optical-grade acrylic plastic lens (same as glasses), this camera really gives the other half frame cameras a run for their money.
There are some awesome half-frame cameras out there, like the Yashica Samurai, or even the underrated Olympus Pen F which has interchangeable lenses. But the Kodak Ektar H35 camera holds up surprisingly well in most cases.
The lens is not the sharpest, and the shutter speed is slow enough that it will make blurry images if you're moving, but that's actually a benefit for this camera. Because The Kodak Ektar H35 isn't as sharp, it makes skin look flawless, and people look younger.
People's faces glow in an extremely flattering way. It's still more than sharp enough to capture expressions, eyes, hair, textures, clothing. But it doesn't make acne, fly away hairs, or wrinkles stand out — especially when the flash is turned on.
The sharpest results will occur between 1-3 meters, and in the center of the frame. The edges do lose a little detail compared with the center.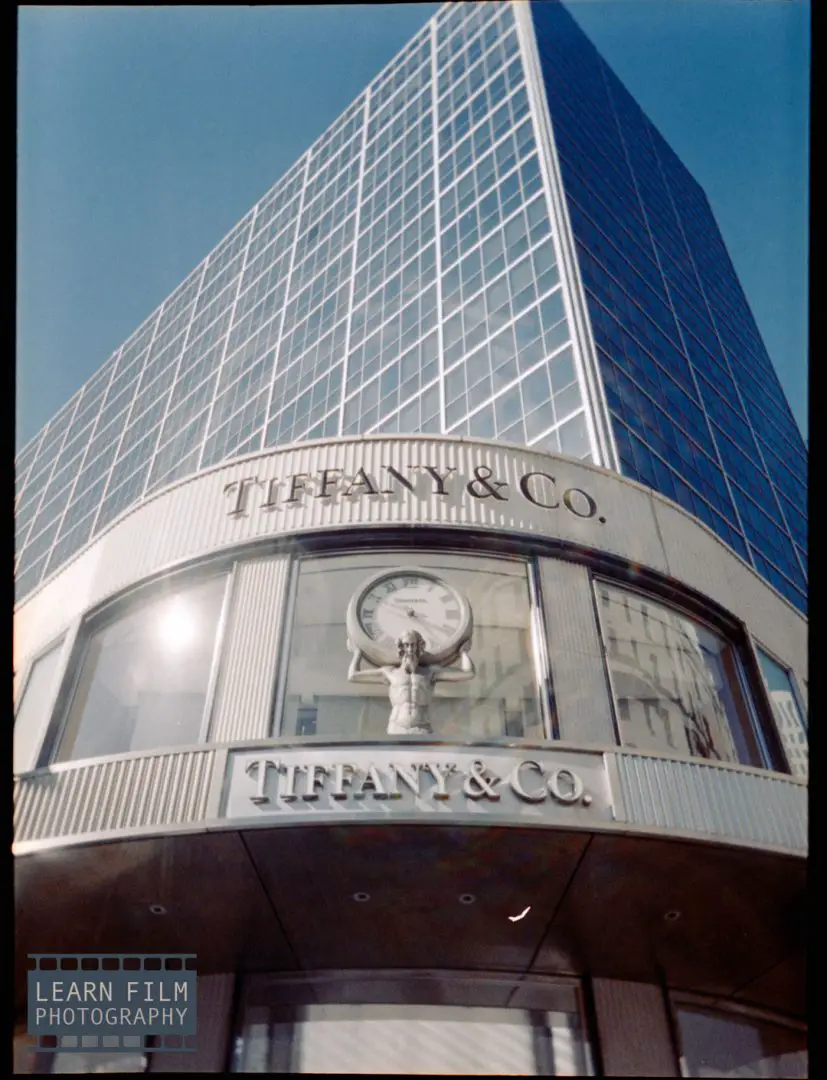 Distortion
I have to admit the lack of distortion in the images was a really surprising result. I captured a bunch of photos of buildings and trees to test out the distortion, and I found it was rarely noticeable.
That means this camera is fantastic for architecture and street photography — there won't be any strange warping around the edges.
The likely reason for the lack of distortion is because of the cropping of the frame. In this case, you're only recording images using the sharpest portion of the frame, which allows for optical performance over cameras like the Ilford Sprite 35-II or Agfa reusable cameras.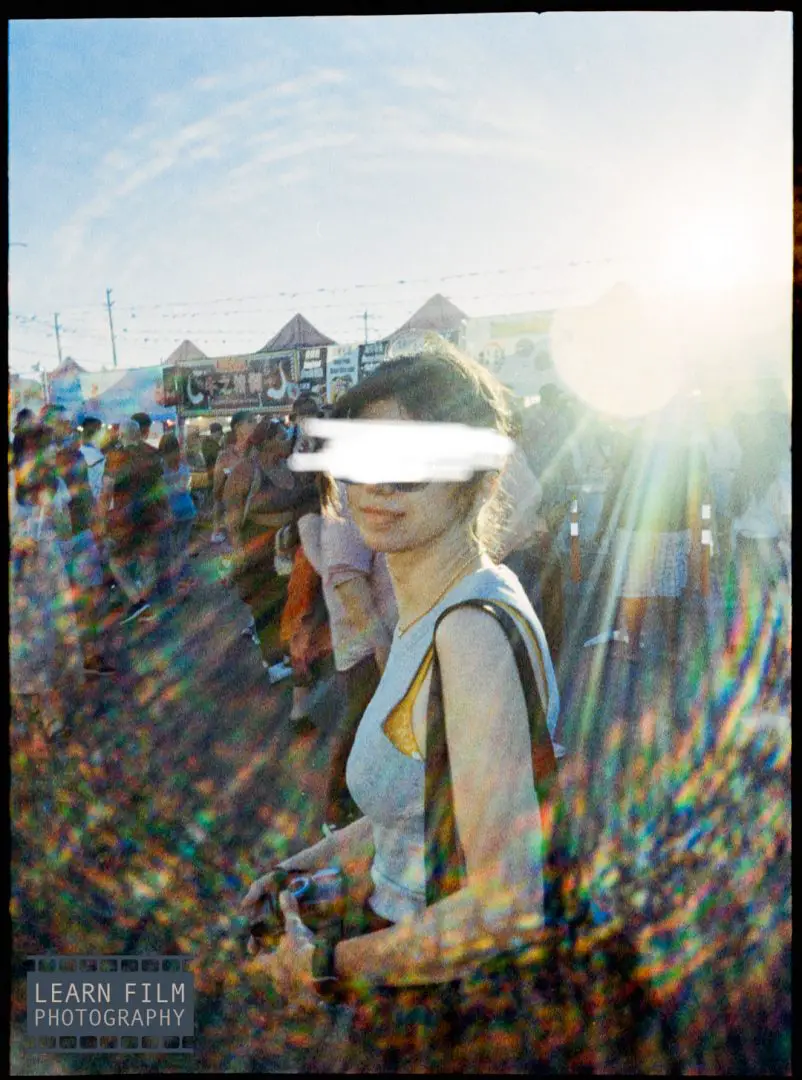 Flaring
When shooting directly into the sun, the Kodak Ektar H35 camera does create some significant flaring around the edges of the frame. In this image, it actually has a pretty cool effect, but to get to most out of it, you will have to have your subject in the center of the frame.
If you're not a fan of the flaring, then the best solution is to have the sun behind you. That way your subject will be in the most flattering light, and you'll be able to create sharper, better images.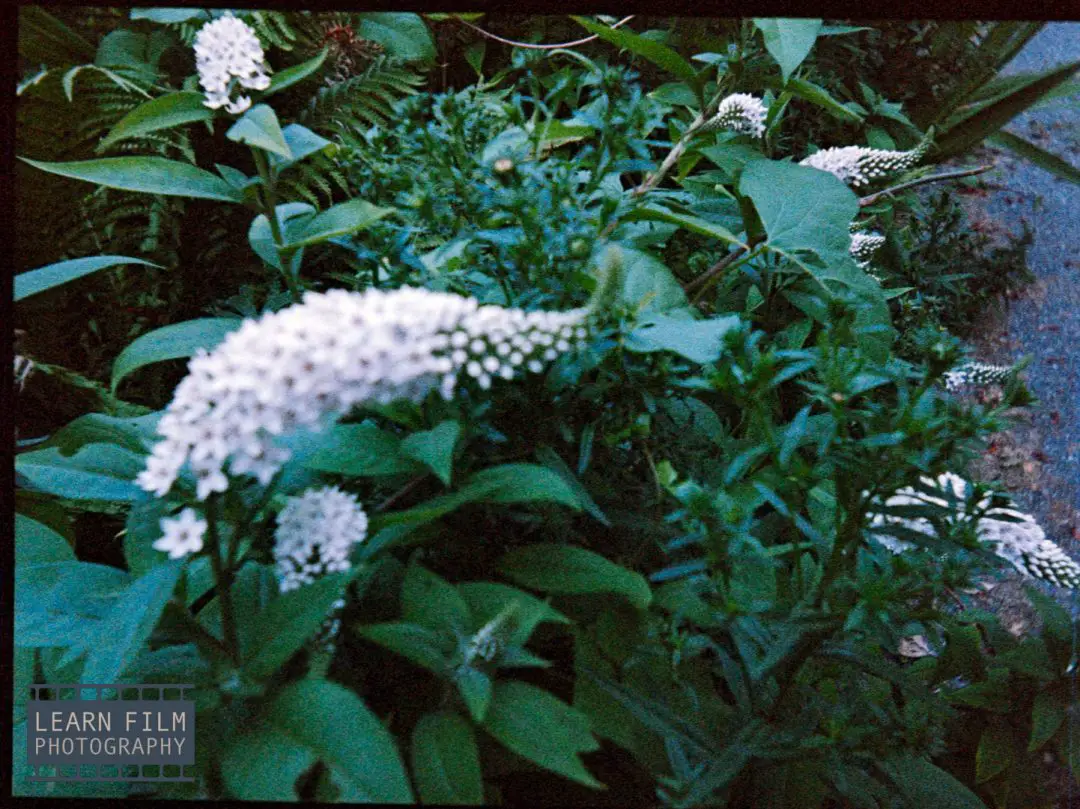 Downsides of the Kodak Ektar Half Frame Camera?
No camera is without faults. But the main faults of this camera are east to overcome.
The first fault that was immediately apparent when I took it out of the box was the strap. It's a plastic carabiner that doesn't fully close. The strap fell off inside my bag, so I certainly wouldn't trust it in the field. I took the clip off immediately and haven't put it back on since.
The next big issue is the rewind knob. It works, but it feels flimsy — like it could fail if there was ever a big more pressure. Take it easy when rewinding the film using the button on the bottom of the camera. Don't ever force it, of you may end up not being able to rewind the film.
Last is the flaring. The lens is pretty good overall, but the flaring can be a big distraction in some images. Unless you like that look (which it can definitely be used for some cool effects), then you will always have to take photos with the sun outside of the frame. Shooting with the sun behind you is how you get the best light on your subjects anyways, so I don't see it as too big of a issue.
Final thoughts: Who is The Kodak Ektar H35 camera for? 
The Kodak Ektar H35 Half Frame camera is for anyone who loves using disposable cameras, but hates the environmental impact of them. This camera has all of the glory those cameras do, but it's also reusable, and gets twice as many frames per roll of film.
The simple, fuss-free operation of the camera makes it the perfect choice for anyone who wants to have fun capturing candid photos of their friends and family. I capture so many more smiles on a camera like this than any other in my kit. And that includes digital, where I can shoot 10 frames per second.
The fact of the matter is that this camera makes everything so simple and subtle that there's nothing to get in the way of the shooting experience. It's quiet, quick, and has a flash that enables it to capture memories no matter what kind of lighting you use it in. So long as you're close to your subjects (but not too close), you're going to get some amazing photos.
Find this super fun camera on Amazon here.
By Daren
Daren is a journalist and wedding photographer based in Vancouver, B.C. He's been taking personal and professional photos on film since 2017 and began developing and printing his own photos after wanting more control than what local labs could offer. Discover his newest publications at Soft Grain Books, or check out the print shop.