10

min read
Over the last 5 years, photographers have seen major advances to what used to be the most boring part of our kits. Though having a tripod is essential for photography, there's no doubt that using one has never been 'fun.' But that fact is quickly changing, as new designers enter the market for this vital tool.
The Ulanzi & Coman F38 Zero carbon fiber tripod might just be the best travel tripod of 2022. It takes all the stand out features of the Peak Design Travel Tripod, and tweaks them to make a lighter, taller, and more user-friendly travel tripod with the best ball head in the industry. 
I traveled throughout Morocco and Vancouver with the Ulanzi & Coman F38 carbon fiber tripod, and here's what I found throughout the journey. 
| | |
| --- | --- |
| Weight | 1.1kg (2.4lbs) |
| Maximum Height: | 156cm (61.4″) |
| Minimum Height: | 15.3cm (6″) |
| Leg Sections | 5 |
| Leg locking mechanism: | latch locks |
| Balancing Hook: | Yes |
| Short Center Column | Yes, in the included center column only |
| Center column support for other tripod heads? | Yes, with an optional paid center column |
| Spike Feet | Included |
| Bonus Features | Hex key tool in the center column, 1/4 inch accessory mount, locking ball head with panorama feature, quick release plate |
What does the Ulanzi & Coman travel tripod do well? 
Photographers went for what feels like 100 years without seeing true innovation in the world of tripods. It's only been Ulanzi and Peak Design who have changed that, and made the tripod a multi-functional tool that photographer's can't live without. 
The Ulanzi & Coman travel tripod gets nearly everything right: it has more features than we've ever seen in a tripod before. And it does this without upselling customers on tools, like spike feet, that are normally included (I'm looking at you, Peak Design). 
The tripod also has an innovative ball head design that can level the camera even when the center column is completely lowered. It sounds simple, but this feature allows users to get the maximum stability on uneven ground — something no other tripod of this size can do. 
Ulanzi & Coman's tripod also features a quarter-inch screw mount, which can hold a friction arm, or other accessory that allows users to easily attach lights, monitors, microphones, and other accessories for photo and video. This is a simple addition only otherwise found in high-end Manfrotto tripods makes the Ulanzi & Coman F38 so much more useful for videographers. Especially those with a run and gun style, who need all the accessory mounts they can get for a one-camera setup. 
Personally, I also love the clasp locks on the legs. Twist locks take forever to set up, and there is inevitably one twist that isn't tight enough, causing the tripod to sink to one side when the camera is attached. Clasp locks are my number 1 priority when purchasing a tripod, so I'm very happy to see the Ulanzi tripod using them. 
The standout feature: ball head with panorama feature
But the standout feature of the Ulani & Coman travel tripod ballhead is the fact that it pans left and right without affecting the tilt. I can't tell you how big of a deal this is for professional photographers, who often shell out extra money for a heavy and cumbersome pan and tilt head, which allows movement in just one direction at a time.
Having the panning feature built into a ball head allows photographers to easily create perfect panoramas with the ball head, which is difficult using an everyday ball head, which often leaves white spaces in the final, stitched together image.
Having the panning feature built into the ball head makes the Ulanzi & Coman the only tripod on the market that does not sacrifice functionality when it loses size and weight.
The vast majority of photographers will never need to use a different tripod head, which is usually the first upgrade they make. The only time you'll need to switch the head is when you need something extremely precise (like a geared head), or niche, in which case, Ulanzi offers a second, optional center column without their ball head. The downside of the optional ball-head-less center column, though, is that it cannot turn into a short tripod. 
Attaching the camera is also a very quick and painless process. It feels amazing to simply slide the camera onto the ball head and feel that familiar and snappy click when everything falls into place. With that in mind, I highly recommend using a screwdriver or wide coin to attach the baseplate to your camera. The tool included in the tripod center column simply doesn't give enough leverage to properly attach the baseplate. 
What is it like using the Ulanzi & Coman tripod in the field? 
I took the Ulanzi & Coman tripod with me to Morocco to test it in a variety of conditions, from desert to cities, and also got some good use out of it creating long exposures around my home city of Vancouver. 
The tripod is extremely quick and easy to use. After just a short amount of time, every feature makes sense and simply feels right. The latches and switches are all placed exactly where they need to be, and there it feels like there is no extra metal or plastic that didn't have to be there.
As a film photographer using a Hasselblad camera, I need something that can be sturdy and hold a heck of a lot of awkward weight. The 40mm lens I use, for example, weighs almost a kilogram, with the vast majority of that weight sitting in the 105mm wide front element. The ball head on the tripod needed to be strong to hold it steady. 
But even in the wind, the tripod worked just fine. Especially when it was kept lower to the ground, and when using my camera bag on the hook to keep it as steady as possible. These techniques keep every tripod sturdier, and are just an extra assurance that you'll be creating the sharpest possible images. 
The only thing that's missing is an extra security step to keep the camera on the tripod head. At times, I was a little paranoid about accidentally hitting the release button and having the camera come crashing down — which is not possible on other tripods with a two-step locking mechanism.
Are there any downsides to the Ulanzi & Coman travel tripod? 
There are three main places where the Ulanzi & Coman travel tripod could be improved. 
The first one is to have a two-step locking mechanism on the ball head. Nearly every other tripod head has a two step process — even for Arca Swiss plates. But while the Ulanzi & Coman holds the camera on tightly by the baseplate, there is just something slightly unnerving about it compared with other tripods. 
The next place where it's possible to improve the design is in the stability. When the center column is raised, the tripod doesn't feel as steady as others on the market. This may be fixed with a bit of tightening, but it sometimes felt like it carried more vibrations up the shaft than the other tripods I use most often. 
With stability in mind, it's absolutely possible to create tack sharp images, even when there's a bit of wind. The best advice is to keep the center column down, which thankfully, the ballhead can continue to level the camera even in its lowest position. 
Next, using weight on the hook is a very good way to increase the stability of the tripod. I use my camera bag, and just make sure that the bag is resting partially on the ground or another rock, so that a sudden gust of wind doesn't catch the bag and add extra shake. If you need to make the tripod a little higher with your bag attached, you can always lengthen your camera bag straps to make it longer. 
And the last point of improvement is a really small detail, but one that can matter. The Ulanzi & Coman tripod does have a level on the side of the tripod head, however, it's only a horizontal level, which only gives the photographer one dimension of levelling information when they need three to experience true level. To be fair, no tripod has yet solved the issue of having a proper level that can be used when the camera is attached.
The only other thing this tripod is missing over the Peak Design tripod is the built-in cellphone mount. However, I'd argue that using a friction arm with the 1/4" mount and use a cellphone holder is more reliable — I've had to replace a broken Peak Design mount already before, and lost two of the Peak Design hex key tools that attach to the legs within a week (I've since given up on them). 
So personally, I think the Ulanzi solution with the tool in the center column is by far the better design choice.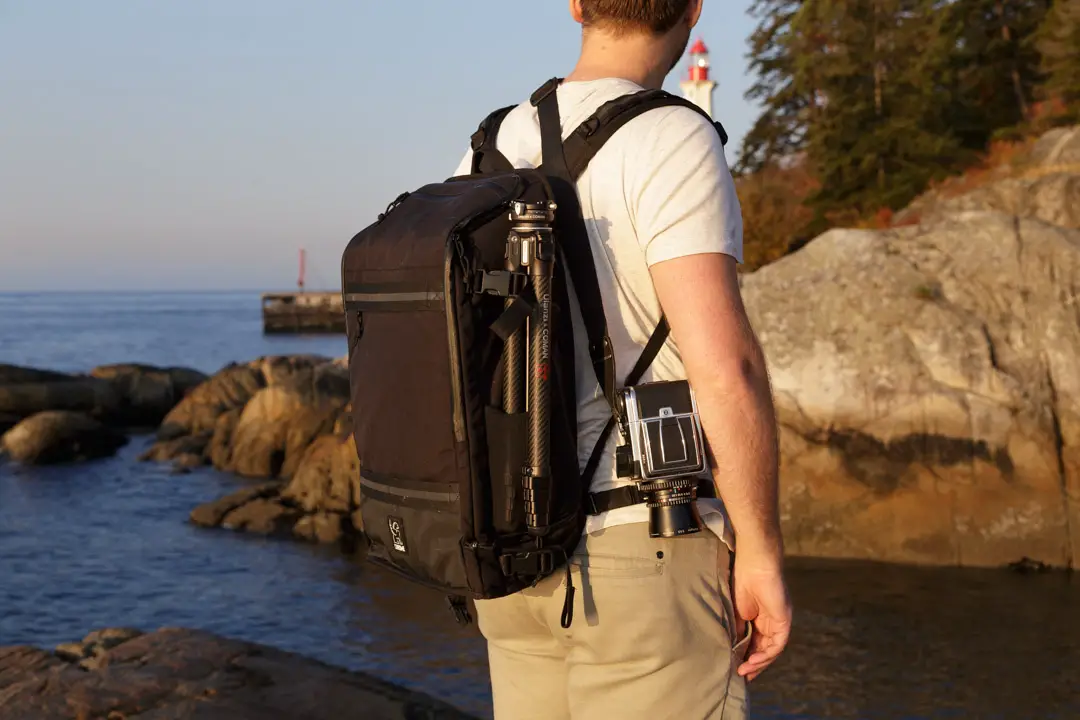 Final thoughts
The perfect tripod is something that I've sought after almost my entire photography career, and this one comes very close. 
I've sincerely enjoyed using this tripod, and hardly ever notice the weight. It packs down so small that it's extremely easy to fit on a bus, plane, or train. It'll fit on nearly any camera bag, and can be handheld in a pinch. 
And the fact that it fits so many features (including being made of carbon fiber!) for such a low price makes this by far the best value in the world of tripods. I'd sincerely recommend the Ulanzi tripod to anyone who needs a fully-functional tripod in the smallest possible form factor. 
By Daren
Daren is a journalist and wedding photographer based in Vancouver, B.C. He's been taking personal and professional photos on film since 2017 and began developing and printing his own photos after wanting more control than what local labs could offer. Discover his newest publications at Soft Grain Books, or check out the print shop.