I'm a journalist and wedding photographer who fell in love with film while living in Montreal, Canada. 3 years later, and he's kicking it on the west coast, shooting nearly every film stock out there while climbing mountains, hitting up beaches, and exploring new scenery.
I've shot and developed over 500 rolls of film from trips across Canada and Europe, climbing mountains and biking with a film camera in tow. I love nit picking at the details of shooting film, and telling the stories surrounding this incredible product that is only still alive because of the countless, passionate fans.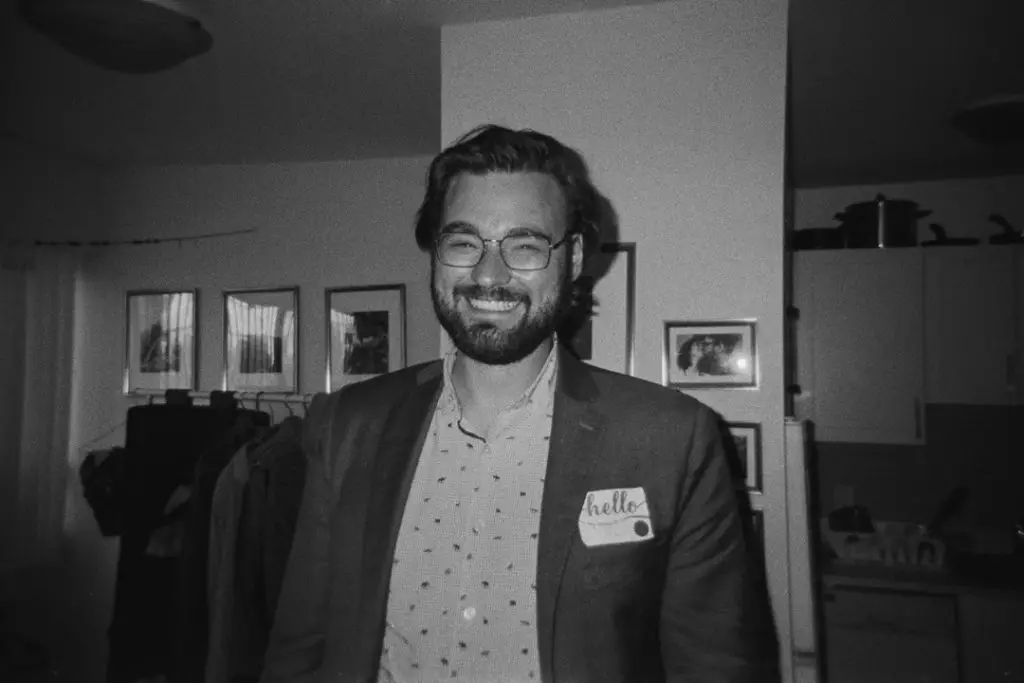 The Subjectivly Objective Questionnaire
Favorite film?
The only film stock that I never allow myself to run out of is Ilford's HP5. It's the best all-around film that never lets you down. I've developed this negative everywhere from ISO 200 to ISO 6400. It's the stock that I've learned the most from using over the years, and have taken some of my favorite all-time images on. Next is Delta 3200, but that's another story.
Kodak, Fuji, or Lomography colour?
Definitely Kodak. I love shooting sunset and sunrise, and Kodak colors are better suited to these types of scenes than any other stock. They have a beautiful warm tone to them that makes the images feel alive. Even Colorplus and Gold are both incredibly versatile films that are almost always in my film cameras when I want a splash of color for everyday photos. That said, Lomography is bringing out some really cool film stocks that I'm always experimenting with. As one of the only companies betting it all on film, I know they're going to come out with some game changing film stocks and cameras in the coming years.
Favorite Photo Paper?
Ilford/Hahnemule Multigrade Art 300 is the greatest paper available in my view. While RC and warm-tone papers are fun to experiment with, nothing has ever been able to beat the look and feel of this fine-art paper. It's a cold-press paper that has a rich texture that creates mind-blowing results every time. When I die, I'm taking this with me.
Best Focal Length?
135mm. This is the first focal length that I look to purchase in every camera system. I simply love how this focal length allows me to isolate my subjects and bring out the drama in a scene.
135mm is also perfect, because it allows me to capture emotion and reactions that are not possible when people know a camera is around. I firmly believe 135mm+ are the best focal lengths for real documentary photography.
Color, or B&W?
I fluctuate on this one, because they both have such different requirements. B&W requires a detailed, defined subject and brilliant light to make an image stand out. Where colour is a lot simpler. For everyday life, I usually run a roll of Kodak Gold or Ultramax. But when I've got a more serious project, it's B&W every day, because of the extra challenge that forces me to critically think about the composition.
Biggest accomplishment?
I recently got this website to a 98 on Pagespeed Insights, and got my first blog article to rank #1 on Google in the same week! Perhaps not the biggest accomplishments, but they're little anecdotes that I'm pretty damn proud of.
Favorite Film Camera?
Cameras are a real flavour of the month for me. Last month, it was the Ilford Sprite 35-II Camera. But right now, it's the Zorki I recently got in the mail from Poland. It's the kind of camera that feels solid, yet small enough to take with your anywhere. The lenses have a character that you won't find in any other system, and it's an absolute joy to use. It's a beautiful little rangefinder, I'm definitely going to invest in a set of Jupiter lenses to really see this baby shine.
Favorite Photobook right now?
The book the inspired me to come back to film photography was "Rudolph Edse, An Unintentional Autobiography." This book, by famous Montreal artist Michel Campeau, is based on a set of archives he found at a garage sale. Rudolph Edse was a German rocket scientist and photography enthusiast who came to America after WWII. The visuals in the book form a biography of American family life in the '50s and '60s.
Read more about my favorite photo books of the year here.