3

min read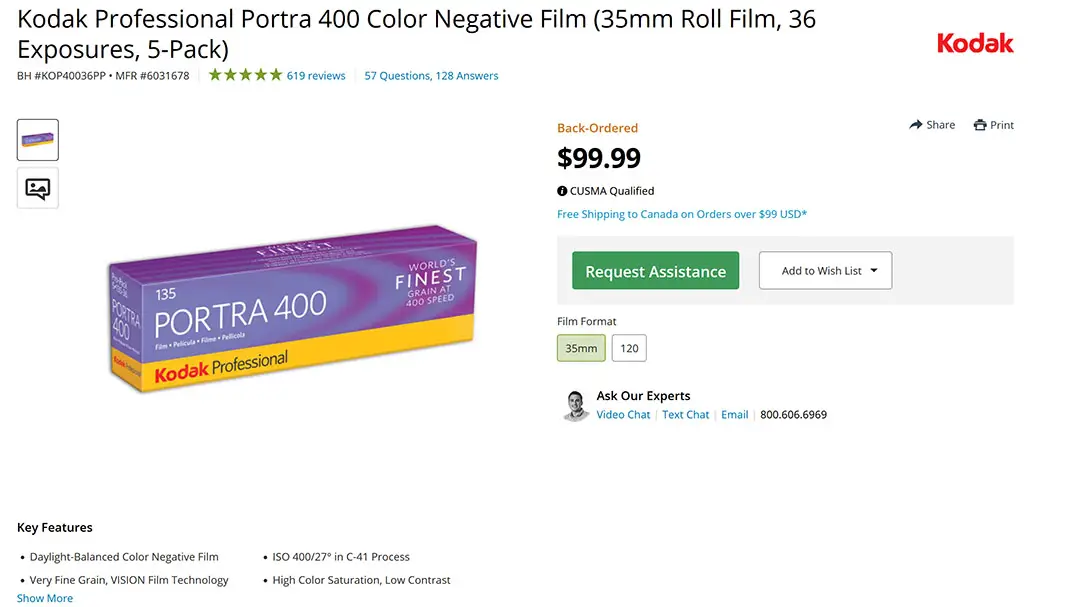 09/06/2022
For the first time ever, the cost of Kodak Portra 400 pro packs in 135 format have risen to the $100 mark in the United States.
Kodak has increased their prices once again in September 2022, this time increasing the price of Kodak Portra 400 and Portra 160 in 35mm format by approximately 20%, depending on the seller.
As of writing, B&H was selling a pro-pack of Portra 400 for $99.99, while Adorama lists the same product on their site for $79.95. That same pro-pack on B&H cost just under $65 on Aug. 5 2022, according to the Internet Archive representing a massive 35% increase in price, while the film is currently on back order.
It's not currently known if this jump in price is temporary, if B&H will match the Adorama price, or if Adorama will increase their price once the film comes back in stock.
At the same time, Kodak Portra 160 jumped to $78.99 for a 5 pack up from $59.78 in June, while Portra 800 sits at $18.95 per roll in 135 format, up from $17.66 on July 18 according to Analog.Cafe's film price tracker. 
Kodak Gold and Ultramax in 135 format have remained the same at the time of writing, though these film stocks have not been available online for some time. When these products do come back in stock, a price increase may follow. 
Unlike previous years, there was no leaked press release altering film photographers to the dramatic price rises before they hit the shelves. 
At the time of writing, Portra 400, 160, 800, Gold, and black and white film in 120 format have not seen more than a 5% jump in price. 
These price increases could be attributed to Kodak's inability to supply 35mm film to the market. According to Nico's photography show, when film photography nearly died in the early 2010s, Kodak, Fuji, Agfa, Ilford, and other manufacturers closed shop and removed their machinery. 
These days, the only companies remaining that can finish film (the process of spooling the film into a single-use 35mm canister) are Ilford and Kodak. While they have no problem producing master rolls of film for photographers and for Hollywood, they have not been able to create enough capacity to finish the film, Nico Llassera reported.
By Daren
Daren is a journalist and wedding photographer based in Vancouver, B.C. He's been taking personal and professional photos on film since 2017 and began developing and printing his own photos after wanting more control than what local labs could offer. Discover his newest publications at Soft Grain Books, or check out the print shop.