4

min read
MiNT Camera will be releasing its latest instant camera, the TL70+ in 2023. The TL70+ is a new and improved version of their best-selling Twin Lens Reflex-style camera, now shooting Instax Square format instead of Instax Mini. 
The upgraded TLR camera has full manual and auto control instead of just aperture priority, an OLED exposure screen built into the bright ground-glass viewfinder, a new and improved multicoated lens, auto-adjusting flash, and a stronger, drop-tested build quality. All while maintaining around the same entry-level price point. 
"We actually dropped it from the 5th floor of a building and it still performed like new," founder Gary Ho said.
The camera is also rumored to have a new wide-angle lens, however, the final specs are not being released to the public just yet.
Ho said this redesign has been in the works since before the pandemic and is a reflection of how far the MiNT team has come since they started designing cameras.
"Eight years ago (actually 10 if we count the time required to develop the camera), we only knew very little about making cameras. But we were young, energetic, and adventurous. This led to some flaws in the camera which we spent tremendous effort to turn around. You can't see those flaws anymore, but looking back, many things could have been done better.
"The TL70 Plus is our attempt to try again and get things right straight from the drawing board. Although we aren't as young as we used to be, our passion and energy haven't changed. Now with more knowledge, experience, and wisdom, we have managed to pull off a product that is the best of its breed," Ho said.
"With this camera, we want to tell people that it's never too late to chase your dreams."
While there is no firm release date yet, the camera is already starting to roll out to a select group of testers and MiNT pioneers. After that feedback process, there may be a few updates before the teams is able to complete a full production run. 
To get direct updates on when the new camera will be available, join the MiNT Camera waitlist here.
The MiNT Camera founder mentioned in an email that while there is no firm price point available yet, the camera will have an entry-level price without making any sacrifices to image or build quality.
"It will cost more than the TL70, but less than our other range of flagship cameras like the RF70 and SLR670 (which costs $999) even though the TL70+ performs no worse than those cameras. I want more people, especially first-timers, to experience this camera," Ho explained.
The TL70 is one of the best-selling cameras created by MiNT. It was also one of the first Instant film cameras designed with artists in mind. Where the cameras put onto the market by Polaroid and Fujifilm are fun, easy to use, and great at parties, MiNT makes cameras for photographers who want to use Instax and Polaroid film for professional and artistic photography.
"Before the TL70, people only used instant cameras to do fun party snapshots. Nobody thought a good lens, aperture control, shutter speed, was important in instant cameras — but now people are using MiNT cameras to do artistic work." 
The MiNT TL70+ will allow photographers to do both. The camera features full manual control, including bulb and T modes for photographers who want to create long exposures, while also providing a camera that's easy to use for new photographers who want higher quality than Fuji Instax provides.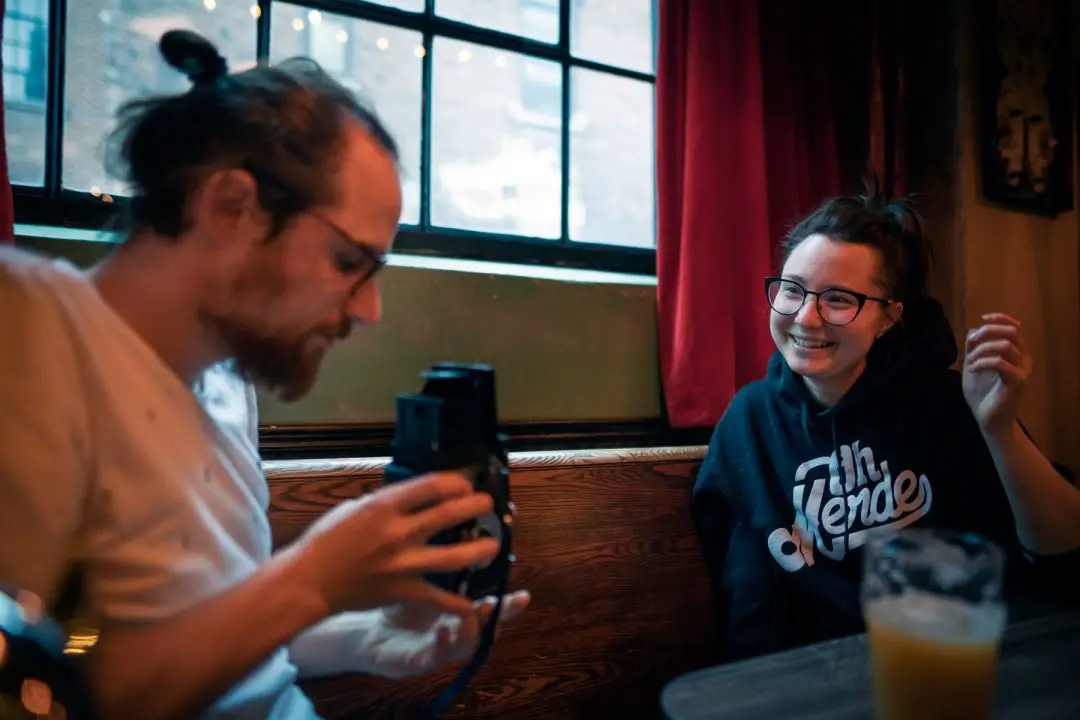 The TLR format for this camera is not just about looks. For Gary Ho, the TLR format enables photographers to use more interesting angles than a standard SLR camera. 
"My favorite thing about the TLR is its ability to shoot from the waist. Photographers use 'weird' and often interesting angles which turns out to be a big PLUS for this type of camera — the pictures that our customers make with the TL70 never fail to amaze me," he said, noting Vivian Maier's work using a TLR camera. 
"You see the world from a different angle and suddenly looking through the viewfinder is like a gateway to another world." 
"I just want to take the opportunity to thank everybody who's supported Mint. Without you guys, I would probably be building a boring bridge, and there wouldn't be a team working on these cameras day and night."
By Daren
Daren is a journalist and wedding photographer based in Vancouver, B.C. He's been taking personal and professional photos on film since 2017 and began developing and printing his own photos after wanting more control than what local labs could offer. Discover his newest publications at Soft Grain Books, or check out the print shop.