7

min read
If you're a new film photographer in 2023, you've no doubt read or heard about the legendary Leicas, Pentax 67, or Hasselblads. But because they're well known, these film cameras are getting staggeringly expensive on eBay — even broken parts cameras can go for more than $500. 
In this article today, we'll skip all those fancy expensive cameras, and take a look at the lesser-known film cameras you can still be picked up for less than $100 on eBay. 
There's no sense learning film photography on an expensive camera — especially when there are so many amazing ones out there that still cost very little.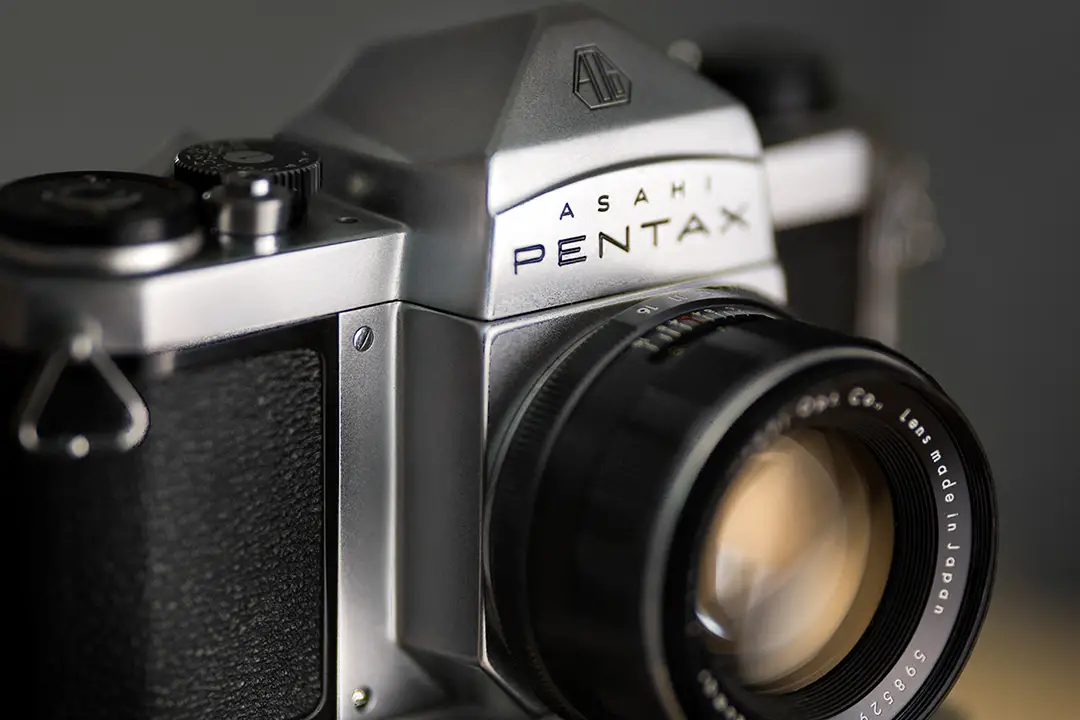 1. Pentax S3 — Underrated Manual Film Camera
The Pentax S3 was the first film camera I was ever given. Even after taking the love of film photography to much more expensive limits, I'm still constantly impressed by the images this camera can create. 
The Pentax S3 is an M42 mount camera, which was a universal screw mount made in the 50s and 60s. It's not the most convenient, but it allows for plenty of extremely cheap lenses from a variety of manufacturers to be used on this camera body. 
The Super Takumar lenses have particularly impressive optics. They're tack sharp and have multi-coatings to reduce flaring in backlit conditions. 
The stock 50mm f/1.8 that usually comes with the camera is perfect for low-light shooters. If there's one line of lenses that is particularly underrated, it's the M42-mount Super Takumars. 
Find a Pentax S3 (or H3 for the American version) on eBay here.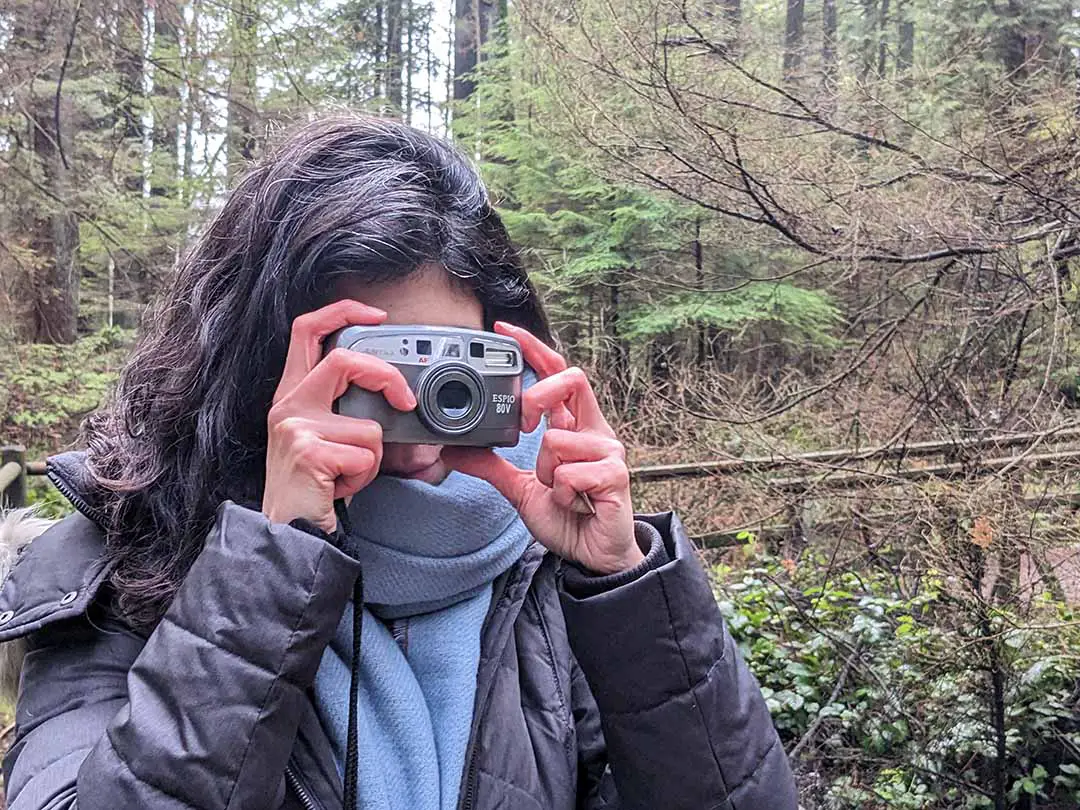 2. Pentax Espio 80 (Point and Shoot with zoom and flash)
One of the more fun cameras that I'm keeping around in 2023 is the Pentax Espio 80. This camera has autofocus, a flash, and a pretty decent 38-80mm f/6.3-12.5 zoom lens that'll make sure you always have the best chance at getting the shot — without doing any of the work. 
The plastic lens on this camera is not the sharpest, but it does make people's skin look incredible in portraits. The autofocus is also snappy in good light and the camera has a built-in DX-code reader to ensure you get the perfect exposure no matter what film stock is used.
Overall, I've had a lot of fun using this camera. The hard flash gives the images a modern, Vogue look with harsh shadows and perfect skin. And for the price, this camera is an absolute steal.
The Espio 80 takes one standard CR123a battery, which are available from major brands on Amazon here. So there's no need to worry that this will become a king of the shelf one day.
The only downside of the Pentax Espio 80 is that it's tough to get the battery door open — it's almost impossible with a fingernail or a key. 
Find the Pentax Espio 80 on eBay here.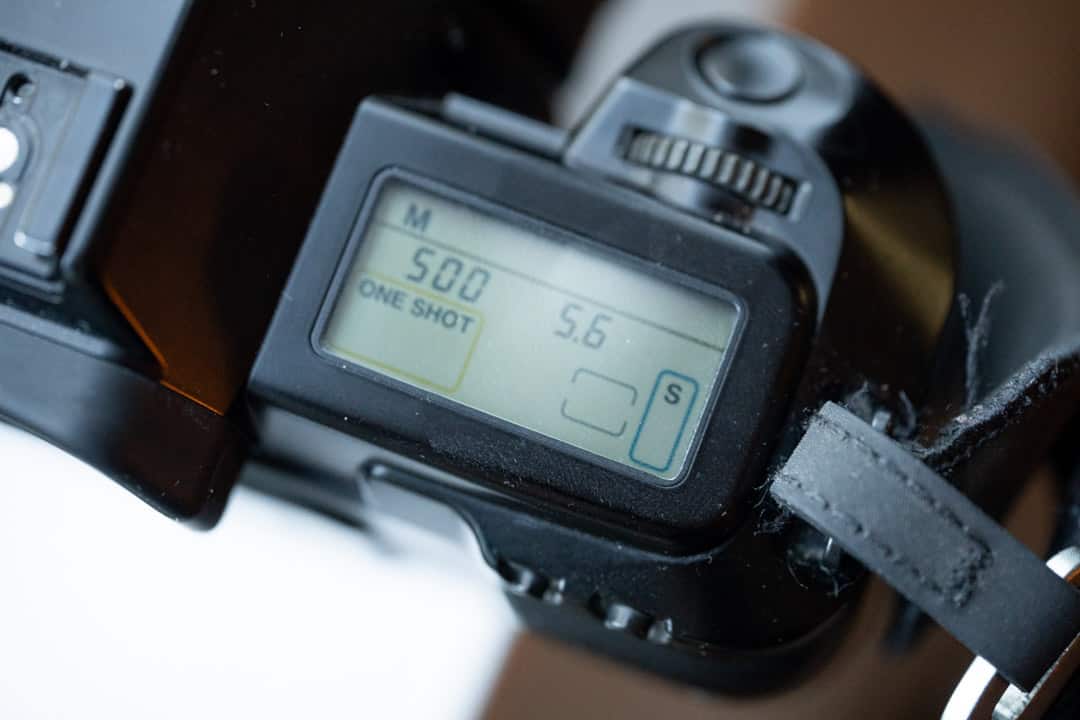 3. Canon EOS 620/630/650 — Autofocus with Modern EOS lenses
If you are a digital shooter with some canon lenses, the very best film camera you could use is a Canon EOS 630. 
These cameras sell around the $100 mark and give you a perfect, reliable entry into film photography without having to spend any extra on lenses. The camera takes a 2CR5 battery, which is also available from major battery manufacturers.
The autofocus works well, even with third-party lenses like the Sigma Art series and it will allow you to use auto-exposure modes like aperture priority, while also giving full control. This camera will also allow you to change the ISO of the film for pushing and pulling.   
However, I would not recommend this system to new photographers, because modern glass is expensive. 
Find the EOS 630 on eBay here.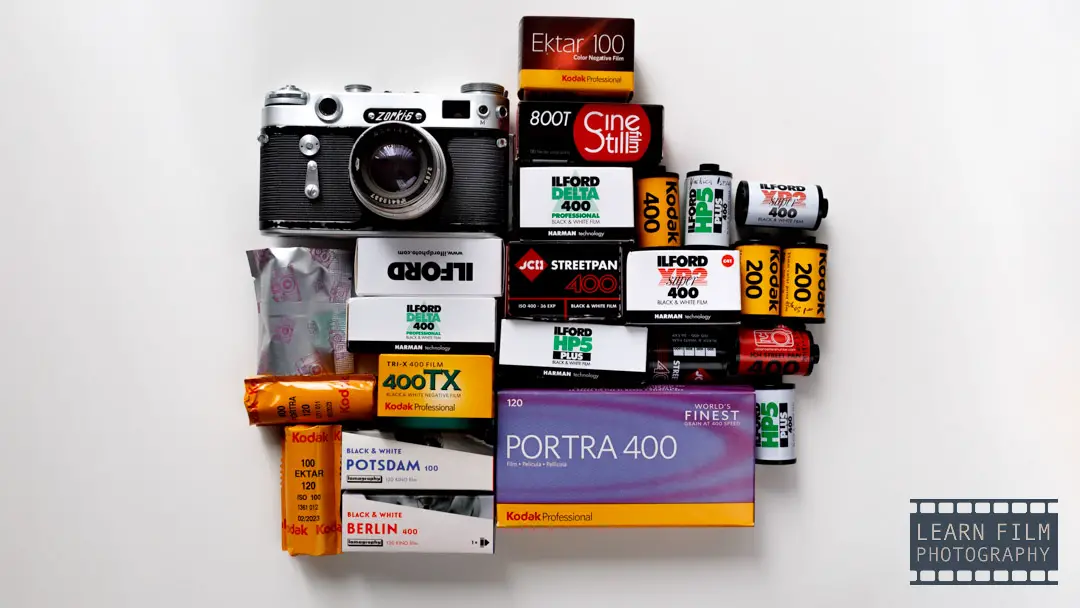 4. Zorki 6 — budget street photographer's camera of choice
The poor-man's Leica. The Zorki 6 is an impressive and fun rangefinder camera to use, delivering about 80% of the Leica experience, without the cost, Leica Anxiety. This camera is a lot of fun to use for str
The downside of the Zorki over the Leica is the lack of frame lines, and lenses with more 'character.' But overall, the system is robust, repairable, and very fun to use. 
The Zorki 6 is particularly reliable, being one of the later models in the lineup. Older versions require careful attention to detail, as changing the shutter speed after cocking the shutter will cause them to break. The Zorki 6 solves that problem, making it one of the better cameras for newer photographers. 
I highly recommend purchasing a Zorki camera on eBay from former USSR countries, as they're more likely to be found in good working condition or to have seen a knowledgeable repairman who could align the lens and body.
Find one on eBay at rock-bottom prices here.
Warning for glasses wearers — put some soft tape around the viewfinder, as the rough edges will badly scratch your lenses.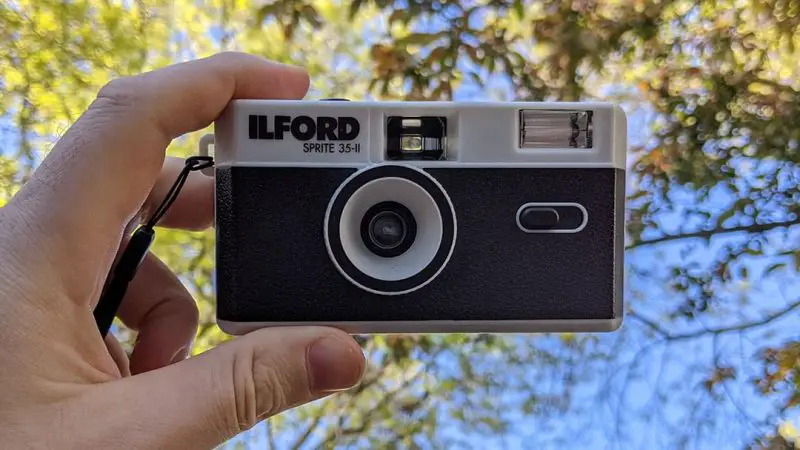 5. Ilford Sprite 35-II — a Reusable Disposable Camera
This one is a super fun camera. The Ilford Sprite 35-II is one of the most popular cameras out there right now because it's one of the only film cameras made new. 
It's essentially a disposable camera that was made to be reusable. It works incredibly simply — load up some film, point, and shoot. If it's a little dark, turn on the single AAA-powered flash for a perfect exposure every time. 
The Ilford Sprice 35-II is the most simple camera out there. It just works no matter what. You can see some example photos with my full review of this camera here.
Because of its fixed focus and simple operation, it has been the camera that has captured most of my favorite memories. There's no need to think, so you can react super quickly to capture awesome photos.  
By Daren
Daren is a journalist and wedding photographer based in Vancouver, B.C. He's been taking personal and professional photos on film since 2017 and began developing and printing his own photos after wanting more control than what local labs could offer. Discover his newest publications at Soft Grain Books, or check out the print shop.