6

min read
I was super excited when I first heard that Kai Wong would be publishing a book on film photography. I've been watching his and Lok Cheung's videos ever since they were making YouTube videos for DigitalRev, and I've closely followed Wong's transition into giving more advice and reviews for film photographers over the last year or so. 
So I picked up the book Old School Photography: 100 Things You Must Know to Take Fantastic Film Photos the minute I found out about it, and excitedly read through the entire book in a weekend. So, how is it? 
4.5 out 5 stars: Old School Photography by Kai Wong is a fantastic book for new film photographers. The book is filled with Kai's trademark witty banter and advice ranging from camera recommendations, to composition tips and advice on how to shoot a variety of different mediums. 
The book is aimed squarely at first time film photographers who don't know much about the medium. Advanced users will find some new tips and tricks, but most of the advice is only meant to scratch the surface. The book only covers topics about shooting film — it has no advice about developing or analog printing at home.
The 200 page book is a quick read, with half of the pages containing color photos, and the other half being half filled with text. The language is filled with charming bathroom humor, and is written with language that is accessible and jargon-free.
The downsides of the book are that it mostly just recommends expensive gear costing over $500, and does contain some small factual errors — but that's just being picky. 
Find Old School Photography on Amazon for the best price.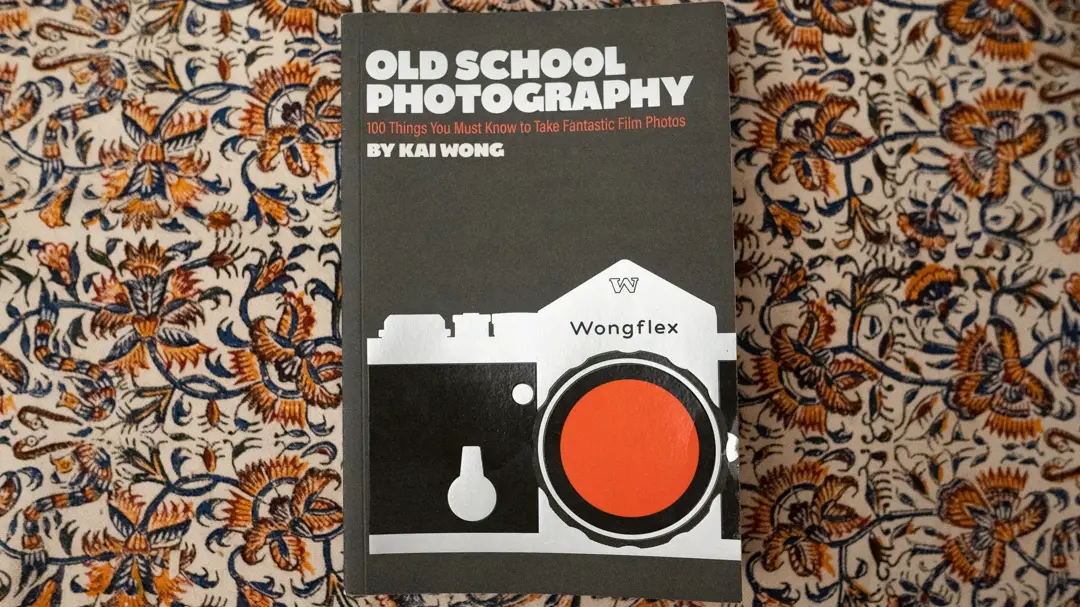 Fun, informative, easy to read
One of the reasons I enjoyed this book was because of how easy it is to read. Most guides to film photography are filled with dense language that reads more like philosophy than photography. But this book even manages to discuss some of that photographic philosophy without getting too technical or uptight.
But Old School Photography makes it simple, and gives just enough detail for new photographers to get out there and take fantastic images. If photographers go out and come back with deeper questions than this book can offer, then I think it has done its job brilliantly. 
Some of my favorite parts of this book were discovering the chapters on lo-fi photography techniques, like cross processing, double exposures and the like. But I also found a lot of useful information on using filters for infrared photography, and even just advice for how to get through a lull in your photography. There were also a ton of exciting gear recommendations, but unfortunately, all of them were costly pieces that I'll likely never own. 
Here's a couple of amusing pieces of advice I found while reading the book:
"Think of film like an egg — not in the sense that it came out of a chicken's arse and tastes great poached with hollandaise sauce — in the sense that you can store them at room temperature without too many ill effects."
"Alright, you won't be able to take your camera everywhere. If your camera is a hefty, large format camera, or if that everywhere happens to be the doctor's appointment to get that strange itch looked at, then you're probably best leaving the camera at home."
"If you want to improve your photography fast, committing to taking one photo per day for the entire year is a surefire way of putting a firecracker up the backside of your photography."
Who is this book for?
Kai Wong's book belongs on the shelves of anyone who wants to learn more about photography in general. This book has just a little bit of everything, making it great for people who are looking to expand their reach. 
Photographers who have followed Kai Wong's YouTube career will also find this book amusing and full of good tips and fun anecdotes like in his videos. 
That said, while this is a great book for getting people out of the house with their cameras, it isn't technical enough to make it into a classroom. It makes for a good quick read, and is encyclopedic in nature. But it's not deep enough to really teach a class about photography. Each of the chapters is only a single page. Sometimes, that page will take less than five minutes to read. Not exactly enticing lesson-plan material. 
Old School Photography will make for a fantastic gift to give a film photographer during the holiday season. 
Final thoughts
Seeing this book come out was a pleasant surprise, and it's one that I'll be proud to keep on the shelf and only lend out to friends who I know will give it back. Of all the books on photography that I own, this was by far the easiest one to get through, and the one that also contained the largest breadth of advice on numerous topics. 
I found the book layout to be extremely effective. It starts out with teaching photographers about the gear itself with some recommendations, before delivering advice on how to expose images properly. The book then features alternative processes, before reaching the composition, and ending with philosophic advice. 
Reading through it made me want to grab my camera and go take some photos outside at blue hour. We'll see in a week if they turned out or not, but in the meantime, I'm happy to just get out and shoot. 
That said, if you are already an advanced film photographer, you're not likely to get much out of the book other than a couple of laughs. I do wish the book had more of Kai's own photography, but it was nice to learn about his history. 
All in all, I got something out of the book. And I know nearly everyone who picks it up will learn a lot more about photography than they expect — especially when you read a little deeper into the text. 
The book is available at most major retailers. but the best price is typically found on Amazon.
By Daren
Daren is a journalist and wedding photographer based in Vancouver, B.C. He's been taking personal and professional photos on film since 2017 and began developing and printing his own photos after wanting more control than what local labs could offer. Discover his newest publications at Soft Grain Books, or check out the print shop.