Every single year, the one item that never leaves my Christmas/birthday wish list is more film. But many people in my life seem to have a hard time choosing what film photography-related gifts. And I get it — film photography is complicated to know from the outside. 
This article is mostly intended to help out my mom, but I know she's not the only mom out there who has a hard time finding the right gifts for the film photographer in their lives. 
Here's my guide to the top 11 gifts that I, and nearly every film photographer, would be ecstatic to receive on birthdays or during the holidays. For simplicity, I've organized it to three different price points. As well, for this list I've mostly chosen options that a photographer is unlikely to already have, but that are versatile and exceptionally useful.
As well, if you have questions about certain items in this list or not, feel free to leave it in the comment section below. I usually answer everything within 24 hours, and would love to help out any way I can! 
Film photography gifts under $25
Find them the perfect camera strap to match their style — a great stocking stuffer
Camera straps are one of the most overlooked items in photography. Most people stick with the camera strap that came with the camera even if they're thin, uncomfortable, and even not user friendly. These are one of those items that photographers don't usually purchase themselves, because they'd rather spend their money on an extra roll of film.
But having a good strap can make a huge difference in the way they take photographs — especially if they're the type that like to hang it around their neck or shoulder, where the weight on a thin strap can become uncomfortable. And there are plenty of really cool camera strap options that fit every personality on Amazon. 
Camera straps come in a variety of different shapes and styles, and usually cost less than $25. But there are a large variety of options, including boutique styles that may cost more.
There are more expensive options out there designed for working professional photographers, like the Peak Design or Black Rapid straps. But the more expensive options are tailored to a specific need, like carrying multiple cameras, securing the camera in a specific way, or for speed. Usually a photographer will shell out the money themselves if they knew they had this specific need.
Take a look at all of these thousands of options that'll fit your photographer's personality.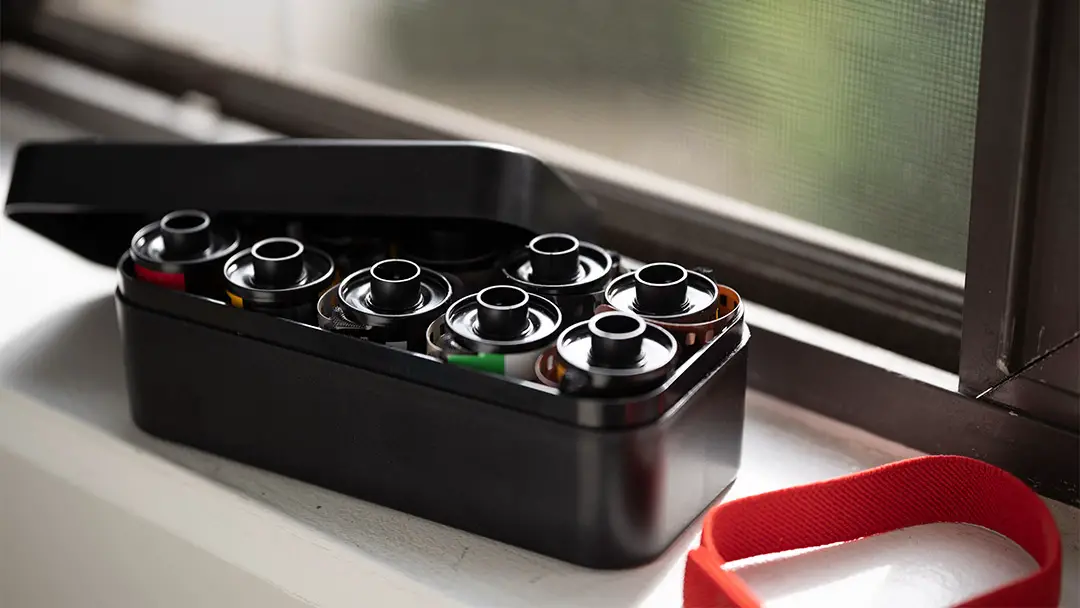 Film travel case
These cases make traveling with film a breeze. They hold a number of rolls in a single accessible case so that your film doesn't just fall anywhere in your bag. 
They're also very useful for traveling through airports and security checkpoints. Because film can be damaged by high-powered x-ray machines, most photographers will attempt to have their film hand-checked. 
But the last thing any impatient TSA agent wants to do is individually look at every roll of film loosely packed in a ziplock bag. But even the busiest airports will safely hand check film if it's in one of these hard cases, where they can easily swab all the rolls. 
After traveling through a bunch of airports with film, this case has been one of the most useful purchases I've made. Here's a nice-looking one on Amazon that can hold either 10 rolls of 35mm or 8 rolls of medium format roll film.
The Photography Book, published by Phaidon
A pocket-sized book filled to the brim with over 500 photos by famous photographers from around the world. Every page shows a different photo by a different photographer with a short biography. 
This book, while a little old, is perfect for introducing photographers to new works that they may have never seen before. Plus, since it was published in 2000, it's guaranteed that they all shot these images on film! 
This is one of my favorite books to lend out to my friends getting into film photography, because it really shows the potential of film photography. 
Find the paperback version on Amazon here.
Scrapbooking is back in vogue
Remember scrapbooking? Remember thinking that now that we have digital, who would go to the trouble of building a scrapbook? Well, it's coming back! Especially if you have a film photographer in your life, there's no better way to help them celebrate their art than by giving them a book to fill with their images. 
Chances are they have thousands of little prints that they don't know what to do with. But giving them a scrapbook not only helps them show off their images, but it gives them a safe place to store them long term. 
Personally, I still go back and look at my mom's scrapbooks. So heck yeah I want to make a couple of my own. Blogging and Instagramming about photos aren't nearly as cool as having a scrapbook. 
Check out this cool linen scrapbook that comes with a changeable cover image here. 
Gift ideas for film photographers between $25-$50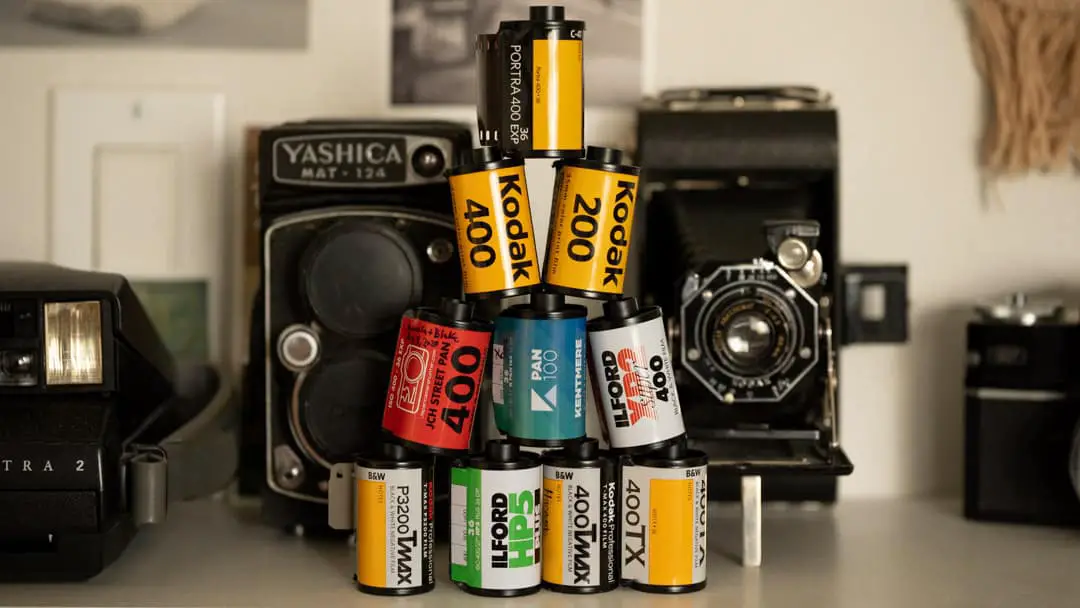 How to choose the right film *stocking stuffer
Even though I ask every year, my mom still has yet to buy me film, and I totally get why. The names are complicated, and everyone has a different opinion about film. Truthfully, there are some films that if I received them as a gift, they'd probably end up sitting on my shelf for good. 
The safest films to buy a photographer are Ilford HP5, Kodak Tri-X, or Kodak Portra 400. Even if these aren't a photographer's favorite films, they will always have a place and a purpose. 
These are the film stocks I go through the fastest because they are reliable and functional in almost every situation. Just a note, if you're buying color film early to get a head start on your Christmas shopping, it will last the longest if it's stored in the fridge or freezer. 
Other fun stocks that photographers will love experimenting with are Japan Camera Hunter StreetPan 400, or Lomography Purple. 
Here is my list of the best film stocks that every film photographer will love! And Mom, if you're reading this: I will always find a use for HP5 (here it is on Amazon).
Day Sleeper by Dorothea Lange and Sam Contis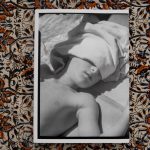 Day Sleeper by Dorothea Lange and Sam Contis is one of the most interesting photo books out to date. This book is a retrospective of Dorothea Lange's work, who is best known for her image of "The Migrant Mother." 
Sam Contis brilliantly strung together a book of Lange's photos, cataloging people living along the west coast, and particularly around San Francisco. One of the many motifs present throughout the work are images of people sleeping during the daylight hours. But it also takes a hard look at the working class struggles of the day.
Day Sleeper is a brilliant, limited-run, work that showcases many never-before-seen images from one of the most famous American photographers. Find it on Amazon here. 
Or, take a look at this article containing my five favorite photobooks that I've found this year.
A thousand uses for a mini tripod *stocking stuffer
Every photographer needs a tripod, but nobody truly enjoys using them or carrying them around. So one of the best gifts you can give is one of these mini tripods by Manfrotto. The reason that I love using these is that they are small enough to fit in any bag and come in handy in many situations where you wouldn't expect. 
Need to put the camera down on the road for a quick shot? This is the quickest and easiest tripod to set up. Hiking up a mountain, but don't want to carry a heavy, full-size tripod? This tiny little thing will do the job at a fraction of the weight. Want to get a group shot around the table this Christmas? Set your camera on this mini tripod to get a steady, motion-blur-free shot!
Any photography will find a thousand uses for this one, tiny piece of equipment. Find it on Amazon here.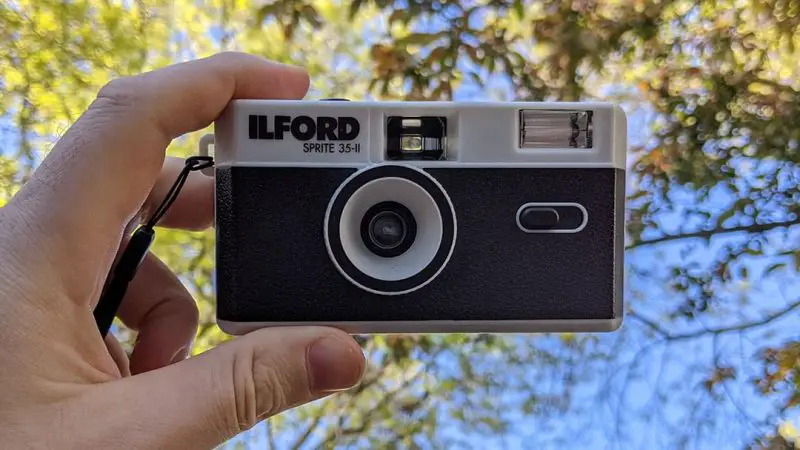 Ilford Sprite 35-II
The Ilford Sprite 35-II is one of my favorite camera purchases this year. I've used this camera for the last year now, and have continued to love it. It's certainly not a sharp camera, but it's so fun that it comes with me everywhere I go, getting constant use. 
This camera takes ISO 200-400 35mm film, and only has a single shutter speed and aperture, and has a AAA battery-powered flash for low light. So all the photographer has to do is point the camera and click the shutter button like they used to with disposable cameras. 
And that's what makes them such a fun companion. Even though I have a number of cameras that are way better, I'm always going to bring this one around with me because of how well it captures emotion. Plus, my girlfriend loves the photos I take of her with this camera more than any other because it softens the skin and gives it that film glow everyone is talking about. 
See my full review of the Ilford Sprite 35-II camera here, or find one on Amazon here. 
The Film developers Cookbook
The Film Developers' Cookbook by Stevel Anchell and Bill Troop is one of the most informative and up-to-date books on film photography. The latest edition was published in 2018, meaning it has information on most of the latest changes in film photography. 
The book is full of hard-to-find film developer recipes, and tips on how to get the best results when developing film. 
This has been the most impactful book on my film photography and has inspired a number of the posts on this blog. Even the most devout film photographers will be able to learn something from this book.
$50-$100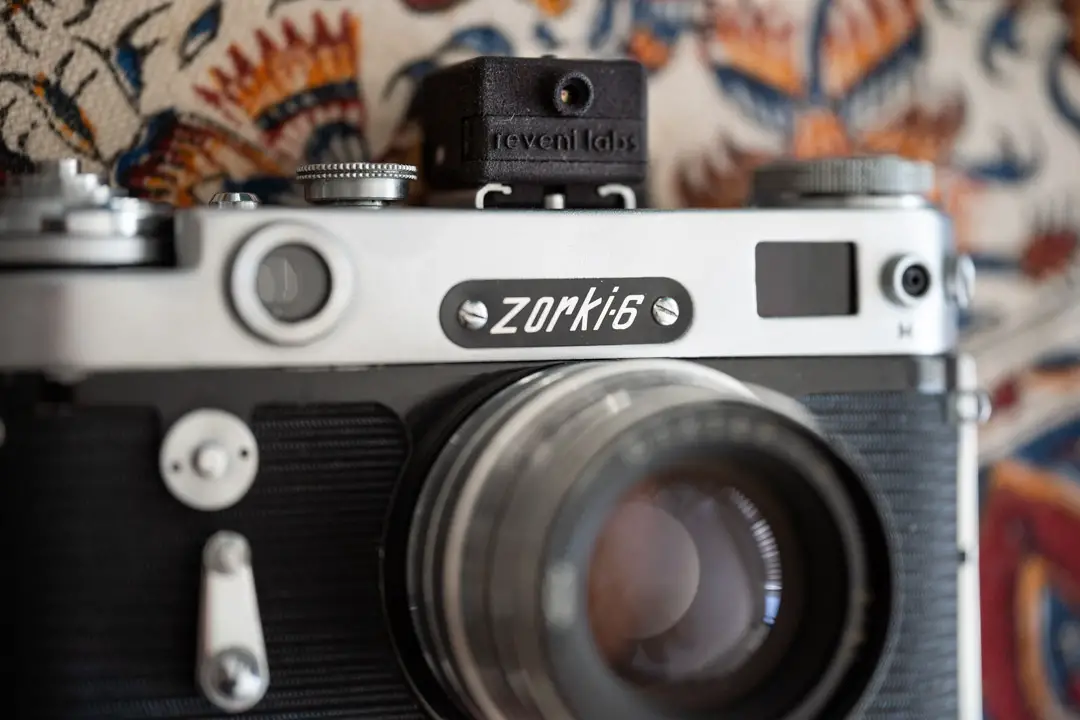 Reveni Labs lightmeter *stocking stuffer
One of the coolest devices I've bought this year is a tiny, 3D-printed lightmeter made by Reveni Labs out of Ontario, Canada. This unique device sits on a hot or cold shoe on the camera and meters the scene in front of it. 
For my cameras that don't have a built-in light meter, this is a godsend. It means I don't have to pull out my phone, or a janky lightmeter, and take time to get a reading. Instead, I just point the meter in the general direction, and it gives me a good overall reading of the scene in seconds. 
I've loved using this on both my Pentax and my Zorki cameras because of how small and versatile it is. That said, I always overexpose the image by a half stop to account for some amount of exposure bias since I can't just take a peek at the image like I would with a digital camera. 
Find out more about these light meters, or order one from the Reveni Labs website. 
Sous vide — a perfect gift for photographers developing their own film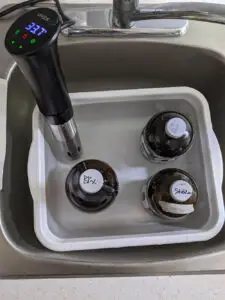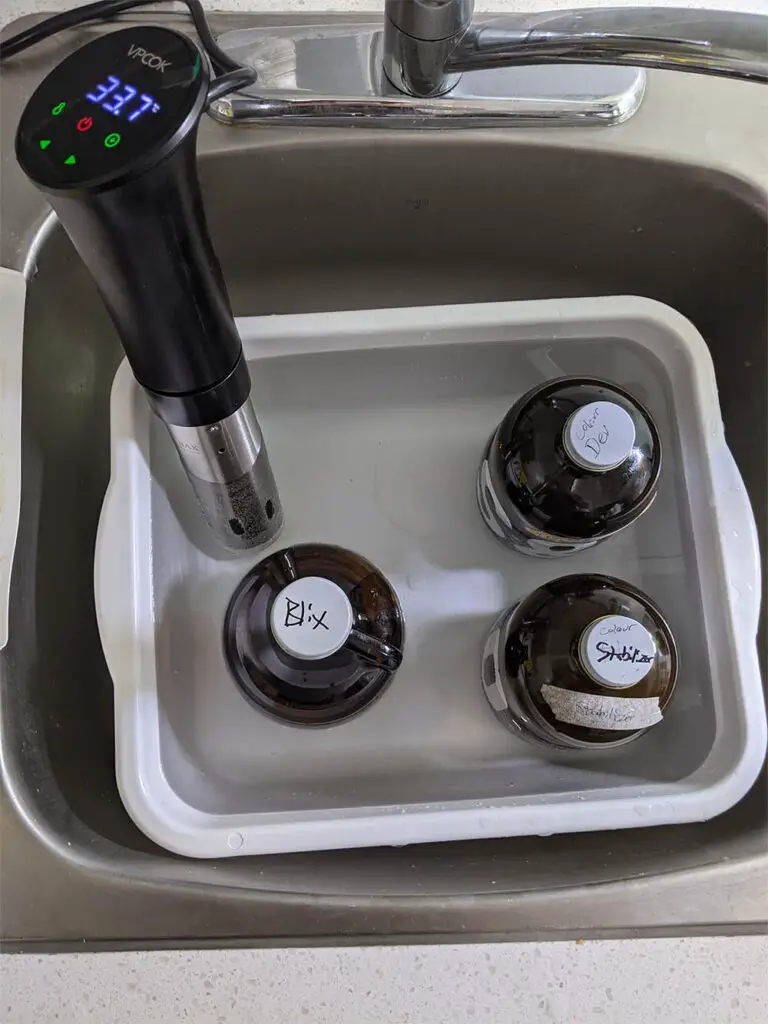 This is one of the most niche suggestions on the list, but it's been one of the most useful pieces of equipment I've bought over the last couple of years. 
A sous vide (or immersion circulator, as the French would call it) is a device usually used for cooking. It heats the water to a specific temperature and keeps it circulating to slowly cook foods over time. But that means it also serves a niche purpose with developing color film at home. 
Color film requires strict temperature control to create good results at home. Many developers when they're first starting out will just use the occasional spray of hot water from the tap. And that can work, but it's imprecise and stressful on the best of days. So the sous vide is a simple and elegant solution that makes temperature control easy. 
If you have a film developer in your life who wants to try developing color film, this is an excellent gift that'll help them achieve the results they're looking for. Here's the one that I've been using over the last year and a half. 
$100+ big gift ideass for film photographers
The Peak Design Tripod
If there's one universal truth about photography, both film and digital, it's that tripods suck. But we need them to take brilliant long exposures, selfies, and many other types of photography that will make our work stand out.
Over my 10 years in photography, I've owned a few different tripods and hated them all. But then I decided to take a chance and pick up the Peak Design Tripod, and I have to say this is by far the most fun and user-friendly tripod I've ever used.
This tiny tripod has everything. It folds down small enough to fit inside a backpack, it has its own mobile phone mount, can be turned upside down (great for scanning film), and has a detachable bottom section so that the tripod can get low to the ground. The tripod also uses the Peak Design quick release plate, which adapts to the camera mounting systems most photographers are already using.
This is the first tripod that I can bring with me everywhere and not even notice it. And that's saying something big. Because I used to strap my tripod to the outside of my checked baggage, or onto the side of my carry-on, and just hope that nobody ever noticed it and charged me more at the airport — or worse, had it fall off and become lost forever. But this one is so small and lightweight that nobody notices it at all. You can read my full review of this unique tripod here.
The benefit of this tripod over every other model is that it is small, lightweight, and has a large number of features that make it the best-designed tripod that has ever been made. Before Peak Design, big manufacturers like Manfrotto never really innovated in the tripod space. Sure, they made tripods smaller, and lighter weight, but they never used the space they had to its full potential.
So if you have a film photographer in your life who lugs around a big, bulky tripod — one who loves to travel, hike, and climb mountains, this is the perfect gift for them. That said, if your film photographer is a professional portrait and fashion shooter, they will likely not find much use for this one.
Find this tripod on the Peak Design Store for the best price.
Paterson and Ilford B&W Home Film Developing Kit
If you have a photographer in your life who is really getting into film, but hasn't yet jumped into developing at home, this is the perfect gift for them. This kit has everything they will need to get started, including a pre-measured single-use set of black and white film-developing chemicals.
Paterson and Ilford are the standard, high-quality manufacturers that most photographers use. Paterson was one of the few suppliers who continued making high-quality equipment for film photographers throughout the digital era. While Ilford is the leading manufacturer of black and white film and film processing chemicals. There are other kits out there, but they don't include the same trusted, high-quality equipment that you will find in this kit.
This kit works for medium format and 35mm film, which are the two most common film types. It won't work out of the box for large format (those gigantic cameras that use sheets), or for 110 film (the tiny cameras people used to keep in their glove box in case of a car accident).
They can also use this kit to develop any kind of color film or slide film. Over time, they will want to get a few extra pieces to make things easier, like a changing bag so they don't need to change their film in a dark bathroom, and a 500ml beaker so that they can mix chemicals on their own.
Final thoughts
I hope you found everything you need in this article. These are all of the gifts that I'd have loved to receive myself, and every single one of them is something that I use often. But, if the film photographer in your life is someone like me, who is a serial gear buyer, the absolute safest gift to give is a box of the most popular color film, Kodak Portra 400 or the most popular black and white film Kodak Tri-X.
These are by far the most sold film stocks in the world and are ones that photographers are running out of all the time. If I had to choose one, these rolls would be them. And the prices are going up in 2022, so many photographers are going to be very happy to receive another box or two before the prices rise.
As always, if you have any questions about other items that you've found and are wondering if they're a good option, feel free to leave a comment below, or send me a message on Instagram! I've already answered a few users questions, and I am open to helping people in any way I can, as quickly as possible.
Film photography is a major passion of mine, and I love to help people enjoy this medium in any way I can.
By Daren
Daren is a journalist and wedding photographer based in Vancouver, B.C. He's been taking personal and professional photos on film since 2017 and began developing and printing his own photos after wanting more control than what local labs could offer.